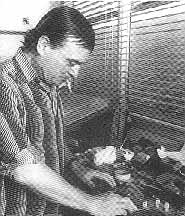 JAMES ORMSTON BURNS (1925 - 1998) has often been described as the 'British Leo Fender' a well-deserved and apt title because there are many parallels to be drawn between the two men.

Jim Burns too was very much a pioneer, and his policy of continual development and refinement reflected a constant quest to realise his vision of the ideal electric guitar. Distinctive design ideas were more than matched by accompanying hardware and circuitry and although some such aspects bordered on gimmickry, others offered genuine innovation, and have become accepted concepts, later to be claimed as firsts by other, more illustrious conveniently forgetful makers.

Such Burns-originated features include: the heel-less, glued-in neck; 24-fret fingerboard, knife-edge bearing vibrato unit; active electronics and stacked-coil pickups.
Despite these achievements and the high profile enjoyed during the early '60s, Burns fortunes declined after the takeover by Baldwin in 1965, and it was another twenty years before Burns oldies were accorded proper recognition and credibility.

Some models from that era having assumed the status of highly-prized collectors items, with values accordingly rising to similarly elevated levels. Demand for prime examples of the most sought-after oldies invariably exceeds supply, guaranteeing ever-increasing rarity and prices.

There have been two major attempts to revive the Burns name, one per decade in fact, but despite good intentions and ideas, neither enjoyed any lasting success.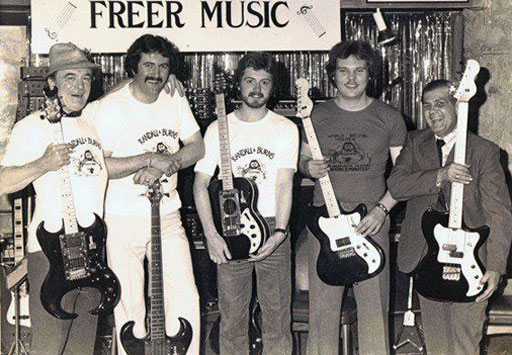 England 1978: Jim Burns (Burns Guitars), Stewart Field, Martin Taylor, Mike Freer (World champion UNDERWATER drummer!) and the late great Ike Issacs at the launch of a new range of Burns guitars.
Into the '90s, and this latest venture should be regarded as a case of third time lucky except that luck has nothing to do with it! The favourable response already received by BURNS LONDON is due to superlative product quality and equivalent performance potential.

Any good fortune involved is there to be enjoyed by the player, as at last there are new Burns instruments available that successfully continue the fine legacy of those early classics.

Jim Burns was involved in the company in an approval and advisory capacity, and had this to say about the new generation of guitars that bear his name:

I'm very impressed with the instruments that are being made by Burns London, which are as good as the originals, if not better. I'm pleased that there are now new Burns guitars out there to give people what they want"

Jim Burns