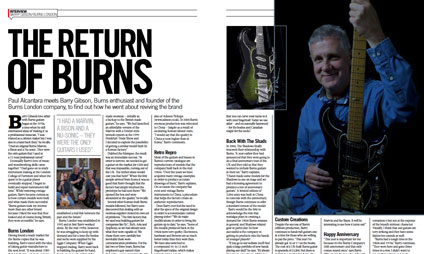 The Return Of Burns
Paul Alcantara meets Barry Gibson, Burns enthusiast and founder of the Burns London company, to find out how he went about reviving the brand
Barry Gibson's love affair with Burns guitars began in the 1970s, a time when he still entertained ideas of 'making it' as a professional musician. "I was trained as a cabinet-maker but I was also in a band back then," he recalls. "I had an original Burns Marvin, a Bison and a Nu-sonic. They were the only guitars that I used in a 12-year professional career."
Eventually Barry's love of music and woodworking skills came together. "I had gone on to study instrument making at the London College of Furniture and when the quest to be a guitar player eventually stopped, I began to build and repair instruments full time."
While restoring vintage guitars, Barry became curious as to how certain models were built and what made them successful. "Burns guitars took my interest more than any other brand because I liked the way that they looked and of course being British, they were accessible," he says. Burns London Having found a ready market for the Burns copies that he was building, Barry toyed with the idea of taking guitar manufacture to the next level. "It was about 1989 that I started to get more serious about doing it commercially," he recalls.
"I tracked down Jim Burns and I showed him some of the guitars that I had made and he gave it his seal of approval. Jim subsequently came on board as a freelance consultant and it established a real link between the past and the future." Burns London was established in 1992 and at first Barry worked alone. By the mid 1990s, however, he was struggling to keep up with demand and for a time the bodies and necks were supplied by the Eggle Company.
When Eggle stopped trading, Barry went back to building the guitars by hand, but it was now clear that if the company was to grow, he needed to find another supplier. Offshore Production "It was around 1999 that I first considered getting some products made overseas — initially as a backup to the British made guitars," he says.
"We had launched an affordable version of the Marvin with a Fender-style tremolo system at the 1999 Frankfurt Trade Show and I decided to explore the possibility of getting a similar model built by a Korean factory." Dubbed the Marquee, the result was an immediate success. "In order to survive, we needed to get a guitar on the market for £300 and that was impossible, coming out of the UK.
The timber alone would cost you that here!" When the first sample arrived from Korea it was so good that Barry thought that the factory had simply returned the prototype he had sent them! "We opened the box and were astounded at the quality," he recalls. Several other Korean-built Burns models followed, but Barry soon discovered that dealing with an overseas supplier created its own set of problems.
"The first factory that we used was building guitars for companies like B.C. Rich, Aria and Epiphone, so we had already seen what they were capable of. We chose them very carefully but inevitably there were communication problems. For the last two or three years, Burns has employed a guy named Alan Entwistle — we've given him the title of 'Chief Engineer'! Alan goes out to the various factories and makes sure that quality control is maintained."
Besides Barry and Alan, the current Burns team includes pickup and electronics wizard Adrian Turner, also of Adeson Pickups (www.adeson.co.uk). In 2004 Burn's overseas production was relocated to China — largely as a result of escalating Korean labour costs. "I would say that the quality in China is now higher than in Korea," Barry comments. Retro Repro Most of the guitars and basses in Burns's current catalogue are reproductions of models that the company built back in the mid 1960s.
"Over the years we have acquired many vintage examples in order to produce accurate drawings of them," Barry explains. On occasion the company has even sent vintage Burns instruments to China, a procedure that helps the factory create an authentic reproduction. Does Barry ever feel the need to alter the specs of the original design in order to accommodate current playing styles?
"We do make modifications in order to bring the guitars up to date," he says. "Some of the models produced back in the 1960s were very quirky. Electronics, hardware and fretwire are so much better today than they were then. We have also switched to a compound 10- to 12-inch fingerboard radius, which makes string bending easier." The timbers that Burns employs have changed too. Examples from the mid 1960s were often built from obeche, a wood that Barry describes as being almost like balsa. "It's great in terms of weight and acoustically it's quite nice," he says "but it's so soft that you can carve your name in it with your fingernail!
Today we use alder — and occasionally basswood — for the bodies and Canadian maple for the necks." Back With The Shads In 2004, The Shadows finally renewed their relationship with Burns. "A year earlier they had announced that they were going to do a final anniversary tour of the UK and they told us that they wanted to include Burns guitars in their set," Barry explains.
"I hand-made some models for the Shadows to use on stage and we had a licensing agreement to produce a run of anniversary guitars." A limited edition of 2,004 units was built in China to coincide with the anniversary, though Burns continues to offer a standard version of the model.
Barry would be the first to acknowledge the role that nostalgia plays in creating a demand for 1960s Burns reissues in general, and Shadows related gear in particular. So how successful is the company in getting its products into the hands of younger players? "If you go to our website you'll find quite a large portfolio of new bands playing our stuff," he says.
"It's always pleasing to get a phone call from a young band that has a contract and wants to do an endorsement deal. We can't give instruments away, not in the recession anyway, but we do try to help artists out. So there are a lot of new bands currently using Burns instruments." Custom Creations Despite the success of Burn's offshore production, Barry continues to handcraft guitars one at a time for those who are willing to pay the price.
"This year I've already got 16 or 17 on the books. The cost of a UK-built Burns guitar is upwards of £3,000, but there is definitely a market for them. The Chinese instruments are built using CNC technology but the British guitars are all hand-made. Obviously this does take a lot more time. At the moment, I'm working on a custom ordered guitar that combines various features from the Marvin and the Bison.
It will be interesting to see how it turns out!" Happy Anniversary "This year is important for me because it's the Burns Company's 50th anniversary and that only comes round once," says Barry. "We are producing a few 'all gold' models to commemorate that.
"I like to think that Jim Burns would have been pleased with the direction in which we have taken his company. We have brought the guitars bang up to date in terms of playability and manufacturing consistency but not at the expense of the brand's intrinsic character. Visually, I think that our guitars are very striking and they have some distinctive sounds as well.
"Burns had a tough time in the 1960s and 1970s," Barry continues. "They were here and gone three times in a row. I didn't want to repeat that pattern so I made a point of starting small. It's been one step at a time and the company has survived because I've kept the reins on it."