"Some guitarists think of the USA as the only source of quality electric guitars, and for the most part they are correct. However, there are many of us who remember the superb range of guitars designed and made by BURNS GUITARS, a British company.
Way back in 1963, Jim Burns, the founder of the Company, worked closely with myself and Bruce Welch of The Shadows to design a guitar which would have the style, sound, and playability we required. Together we developed the 'BURNS MARVIN' a fine guitar, which I played on record, stage and screen from 1964 thru to 1970 when, unfortunately, my guitars were stolen, never to be seen again, well not by me!
I am delighted that BURNS GUITARS are still in the business of making quality instruments, and in particular the new 'BURNS MARVIN.'
Playing this new "Marvin" brings back a host of memories; such as the recording of "The Rise and Fall of Flingel Bunt", together with many other Shadows tracks I recorded with my BURNS.
REZOTUBE RECORDING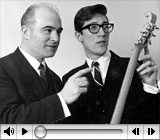 Click on the image above to listen to the development of the Rezotube tremolo system for Hank Marvin, narrated by Jim Burns.
TESTIMONIAL
Hi Barry, Words cannot express my gratitude for the way you have personally looked after me on my purchase of the White Burns Marvin. Your enthusiasm for the products and the fact you were prepared to share manufacturing issues was something I have never encountered in 50 years. The bonus was when you said you had one which I could buy if I wished. The next morning I received a superbly packed delivery. A major surprise was the tuning and intonation — absolutely spot on with all 6 strings. The personal service which you have given me has made me one of the happiest old men in the world. I have not stopped smiling since yesterday morning. Yours sincerely, Bob
The new "BURNS MARVIN" plays superbly and I am very happy to be the proud owner of one of these fine guitars, it plays and sounds as good as my original.
READ FRENCH REVIEW IN PDF FORMAT