THEME FOR A DREAM
The Dream guitar was designed as a Burns flagship model to celebrate our 50th anniversary and to satisfy the many requests of our customers for a more versatile professional guitar. The main features of the Dream model are the figured maple top and figured maple neck 22 frets instead of the standard 21.
Available in four finishes: Honey Burst, Trans Blue, Trans Cherry-Red and Metallic Gold.
Fitted with the new noiseless Rez-o-Matik Pickups designed by our chief engineer Mr Alan Entwistle. These pickups have taken Alan over two years to develop and were originally intended for our 2007 Apache series.
Figured maple body top
Figured maple neck
22 frets
Noiseless Rez-o-Matik pickups (designed by Alan Entwistle)
Original sixties style black Traffolite laminated pick-guards
Gold hardware
Alder body finished in white polyester
5 Star figured maple neck
Pearl binding
Custom figured maple top
Black pick-guards
22 frets
Burns® locking machine heads
Locking strap nuts
Hand signed and numbered certificate of authenticity
Burns® fitted case
Leather Burns® Strap
Leather tool kit
Warranty card
Burns® duster
All Burns products are sold with a limited 1 year warranty.
This new ENR Noiseless Rez-o-Matik® pickup is now fitted to the new Apache Special and Dream Noiseless models®
"Achieving a true single coil sound such as our standard Rezomatik in a noiseless format is not simply achieved by making a stack coil pickup. Most noiseless "single" coils use two coils of the same dimensions mounted vertically in a single coil cover, the problem however with this idea is that the top coil is considerably smaller than a standard size single coil, thus to achieve the same level of output as a single it must be wound with a much finer guage of winding wire than one normaly uses on a single coil and this unfortunatly changes the overall sound and dynamics of the pickup considerably, the true "glassy" transparency of a single coil is lost. What we have done at Burns and Entwistle Elecronics is to take a full standard size Rezomatik single coil using exactly the same type of Alnico 5 magnets, and winding wire guage and then apply ENR (Entwistle Noise Reduction) technology to this by means of a specially wound smaller canceller coil that sits directly beneath the original Rezomatik single. The result is a true Vintage Rezomatik sound without all the noise!"
Alan Entwistle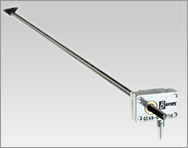 Burns® Gear-o-Matik™ Gearbox
This Burns gearbox was first designed by Jim Burns in 1960 to allow fine neck setting. Coupled to the steel truss rod tensioned through the neck to a gearbox with a hefty cog and worm which provides micro adjustment.


PLAYERS

| | | | | | | | | |
| --- | --- | --- | --- | --- | --- | --- | --- | --- |
| Noel Ford | | | Pierre Teodori | | Gerard Burgerhout | | Bryan Bassett / Foghat & Wild Cherry | |
+ CLICK TO ENLARGE

TESTIMONIALS

Hello Barry, My dear friend would like me share his experience with his new guitar, the Dream Noiseless with you. On the 7th of July,I took delivery of the Burns Dream Noiseless. I'm extremely satisfied with speedy delivery. The guitar was placed in his case like in a beautifully crafted bed, so it was extremely well protected. In short, It's a fantastic guitar with excellent playing comfort. This is, really, above expectations. The elements sound fantastic, and the bridge element high and low adjustability is superb too. Also the push-pull is great. In short, one hell of a guitar, cheers for that. Now we know why this guitar is the cream of the crop of the Burns.
Martina Mirck and the lead guitarist Gerard Burgerhout

'Dream' is the ideal name for this guitar. It truly is a dream to play, in all areas of the fret board. The noiseless pickups and tone control options available are brilliant, so the sounds are superb and unlimited. It is a very versatile, beautiful guitar.
Regards, Bob Naylor

Hello, I have just received my Gold Dream guitar in perfect condition. It was worth waiting for it : great sounding and well handcrafted. Thank you.
Best regards, Jonathan Villant

I can honestly say it is one of the best guitars I have ever played. I have been a Strat player for forty years. I purchased the Burns to get the fuller tone for certain numbers that the Strat cannot provide and it achieves that perfectly. A very satisfied customer.  
Kind regards. Ian White